I have given myself permission to play !
Sounds daft doesn't it but Carolyn Dube's free workshop does just that.
Releasing the inner child to really enjoy your art work.. watch this space for my messy or not so messy results.
I love the fact that Carolyn encourages use of what you already have rather than spending loads of money on new supplies, plus of course, the workshop is free!!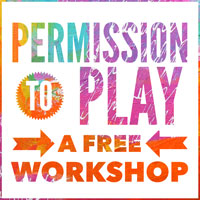 Click on the picture and have a look around, join in and play xx